Government Housing Grants And Loans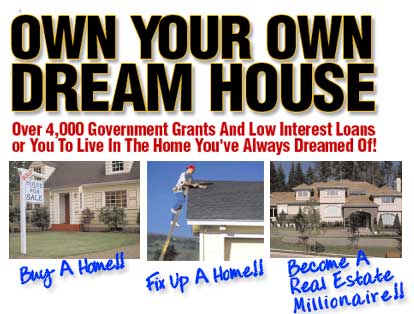 4,000 Little-Known Government money Programs That Give Out Grants, Direct Payments, And Other Free money For People to Buy Their Dream Home or Become a Real Estate Investor.
Anyone can qualify – People Of All Ages And All Incomes. Even people with bad credit and millionaires.
Don't Borrow When there is FREE MONEY to Help You Own The House Of Your Dreams!!!
You have a right to take advantage of every legitimate program that is available from the thousands of government agencies that will help you realize your dream. It's your tax dollars that support these programs. You're paying for them, so you should use them.
FIND OUT HOW YOU CAN GET:
$200,000 To Buy Or Fix Up A Home In The Country
$5,000,000 To Build An Apartment Building 50%
Discount For Teachers To Buy A Home
$27,000 Grant To Fix Up Your Home
$500 Per Month To Pay Your Rent
$7 Million For Investors, Builders and Developers To Build Houses and Apartments
$150,000 To Purchase A Condominium
$27,500 In Grants and Loans To Fix Up Your Home
$48,000 To Buy A Mobile Home
$277,000 To Help Purchase a 2-4 Family Dwelling
$100,000 To Buy Or Fix Up Houses In Older Areas Of A Town
$15,000 For Down Payment and Closing Costs
$30,000 For Teachers To Fix Up Their House
$50,000 To Make an Apartment Out Of Your Basement
$2,000 Security Deposit for Renters
$800 to Help Pay Property Tax
$7,000 To Make Your Home Handicap Accessible
Save $1 For a House and Get $8 More FREE
$1,200 For Seniors Foreclosure Giveaways
$2,000 To Pay Your Mortgage Payments
0% Low Interest Loans To Buy A House
$2,000,000 To Build Apartment Buildings
$35,000 To Paint Your Home
$25,000 To Repair Your Septic Tank
$3,000 To Cover Your Mortgage Payments money For People With Bad Credit
$75,000 To Put An Office In Your Home
$10,000 For Emergency Home Repairs
$20,000 To Fix Up Your Home
Free Help With Roofing, Plumbing, & Electrical Work
$4,000 To Paint Your Home
$7,000 For Seniors To Fix Up Their Home
$35,000 Forgivable Loan To Buy A House
Free money For Single Parents To Buy A Home
Pay $60,000 For A $100,000 New Home
$2,000 To Fix Up Your Home
Save $2.000 On Your Heating Bills
50% Discount On Your Energy Bills
Get A Home, No Matter What Your Income
There are programs for every income category and every situation. Most of them are for middle class taxpayers just like you. There are even programs where the government considers you disadvantaged if you have $750,000 in the bank.
This Title is now online. Get Instant Access to Free Money programs for Business and Personal Needs inside the Government Money Club:
Inside the Government Money Club, there are thousands of programs currently available to help you REGARDLESS of your situation. In fact, there are over 250 different programs RIGHT NOW accepting applications for the following:
Rental arrears
Necessities to live
Home purchasing options
Going back to school
Starting a business
Join Right NOW and start taking advantage of these amazing Moneyclub features, designed to help you!
Instant Access to over 17,000 searchable programs and resources
Live assistance to help you along the way
Top-secret interview videos with government officials
Tons of "How 2" videos with real people explaining how they got their money
The world's most exclusive collection of Grants, Loans and other Free Services
Priority Notification of OVER 200 New Monthly Programs
Access to a team of experts to prepare customized reports
Assistance writing grants from trained Free Money Experts
Unlimited access to Matthew Lesko and His Researchers – a dedicated team to help you find and utilize programs in your area, tailored to your specific needs
Free assistance filling out ANY government application
Join Today, Your Satisfaction Is Guaranteed.